Clean bill of health for Cavan Town air
Cavan Town has enjoyed consistently high levels of air quality in the opening months of 2022, according to results from the town's ambient air quality monitoring station.
The monitoring station was installed in 2020 by Cavan County Council and the Environmental Protection Agency (EPA) in 2020 at Cavan Courthouse, Farnham Street, and results from the first quarter of 2022 show that daily average air quality consistently reached the 'good' standard or higher on the EPA's Air Quality Index for Health.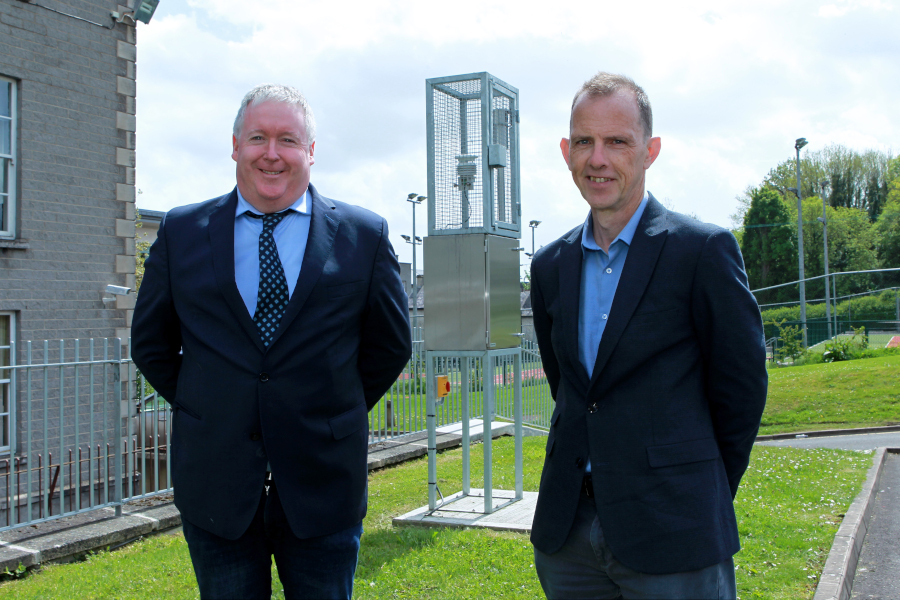 The Environmental Protection Agency's Air Quality Index for Health (AQIH) is a number from 1 to 10 that tells you what the air quality currently is in the station nearest you.
The monitoring unit fitted is a FIDAS Particulate Matter measurement system, which records PM2.5 and PM10 levels. Particulate matter (PM) is the term for a mixture of solid particles and liquid droplets found in the air – PM2.5 and PM10 refer to the size of the pollutant, in micrometres. For reference, the tiniest thing which the naked eye can see measures at least 70 micrometres, so particles sized 2.5 or 10 micrometres in size can only be viewed under a microscope.
Common sources of particulate matter include: dust from unsealed roads, smoke from fires, car and truck exhausts, and industrial emissions. Health effects associated with low air quality resulting from high PM levels include asthma, lung cancer, and premature death.
Cathaoirleach of Cavan County Council, Cllr Clifford Kelly welcomed the news, stating: "As Cavan's largest urban centre, it is encouraging that this joint venture by Cavan County Council and the EPA has recorded consistently good quality air levels in Cavan Town. We all reap the benefits of clean air, and each of us can contribute to maintaining these levels, by taking small steps to reduce our own emissions, such as burning less fossil fuel and taking fewer car journeys."
Director of Service with responsibility for Climate Change, Paddy Connaughton, welcomed the latest results, noting "Last year, Cavan Town was designated a Decarbonising Zone, an area in which a range of climate mitigation, adaptation and biodiversity measures have been identified to address local low carbon energy, greenhouse gas emissions and climate needs to contribute to national climate action targets".
"By undertaking measures including deep energy retrofitting of council social housing units, incorporating electric vehicles in our corporate fleet, and reducing energy consumption in public buildings, Cavan County Council is committed to doing our part to reduce emissions in Cavan Town and across the county and to help mitigate against Climate Change, which is undoubtedly the defining issue of our time," added Mr Connaughton.
View current results
The system measures and transmits the air monitoring data in real-time with graphical results presented on the EPA website. Live air quality data for Cavan Town is available to view at https://airquality.ie/station/EPA-78