Current Salting Routes
The proposed salting routes identified in the below map are prioritised as follows:
Priority 1: National routes N3, N54, N55, and N87. Every effort will be made to keep these routes open at all times.
Priority 2: The regional routes identified in the map below
View the salting route map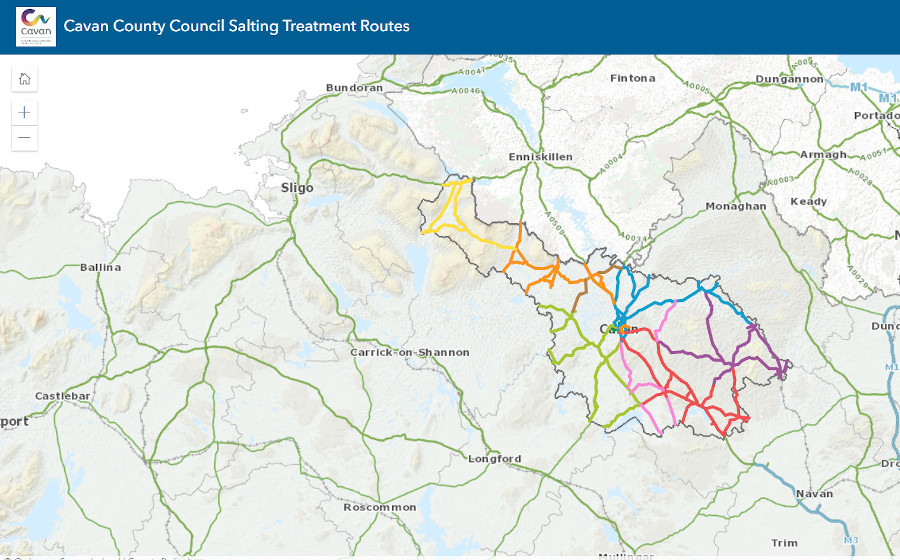 Driving in severe weather
Severe weather such as fog, ice, and snow can strike suddenly, catching road users off guard. Driving in frosty weather presents difficulties which motorists don't normally face throughout the year.
In these weather conditions, it is best to avoid making a journey by road unless absolutely necessary. If driving in such conditions is unavoidable, be prepared. The majority of road collisions are caused by human error. In fact, driver error accounts for over 80% of all fatal collisions and crashes that result in injury. The most important thing in severe weather is to drive with care and caution – and always expect the unexpected.
How and why roads are treated
Irish weather is notoriously hard to predict and very changeable so don't assume that the road you are travelling has been treated. Even when it is treated, patches of frost and ice may remain. The best precaution is to slow down.
Cavan County Council and other local authorities use a cold weather alert system, Ice Cast, to predict when roads may become icy. This helps to decide when roads should be salted.
Cavan County Council uses about 90 tonnes of salt in a night's salting, which covers about 500km of the county's national and regional road network.
Remember...
Salting the network takes time, and conditions can change in this time: be cautious - don't assume road surfaces are hazard-free
Treatment of roads with salt is a measure taken to reduce the risk of collisions and injury. It is not a guarantee that 'normal' speeds can be achieved.
Sleet and snow can be particularly dangerous.
Frost after rain can undo any benefit of salting.
Ensure that your vehicle is adequately prepared for winter driving.
Finally, if you must travel, adapt your driving to the prevailing conditions and always err on the side of caution; your life may depend on it.
Thank you for contacting Cavan County Council, we will review and deal with your query and contact you if we require further information.