About the scheme
Cavan County Council, in conjunction with AECOM Ireland Ltd and the National Transport Authority (NTA), is currently working on the River Rampart Pedestrian and Cycle Bridge in Virginia Town. The Scheme is currently at NTA Phase 3 - Preliminary Design, with a view to submitting a planning application in the coming months.
The scheme aims to promote an increase in active travel modes by improving the connectivity between residential areas on the north of the River Rampart and the town centre to the south. The key scheme objective is to create a safer and more attractive waling and cycling route to access local amenities and infrastructure.
The scheme proposes a new shared pedestrian and cycle path and access road commencing at Virginia Courthouse and extending northwards past Virginia Handball Club. The road will provide access to the existing properties and the handball club including new parking bays. The scheme crosses the River Rampart via a single span arched truss bridge, supported on seated abutments, offset from the riverbank edge which maintains the existing riverbank public right of way. The scheme continues northward, where it will tie into Rampart View infrastructure.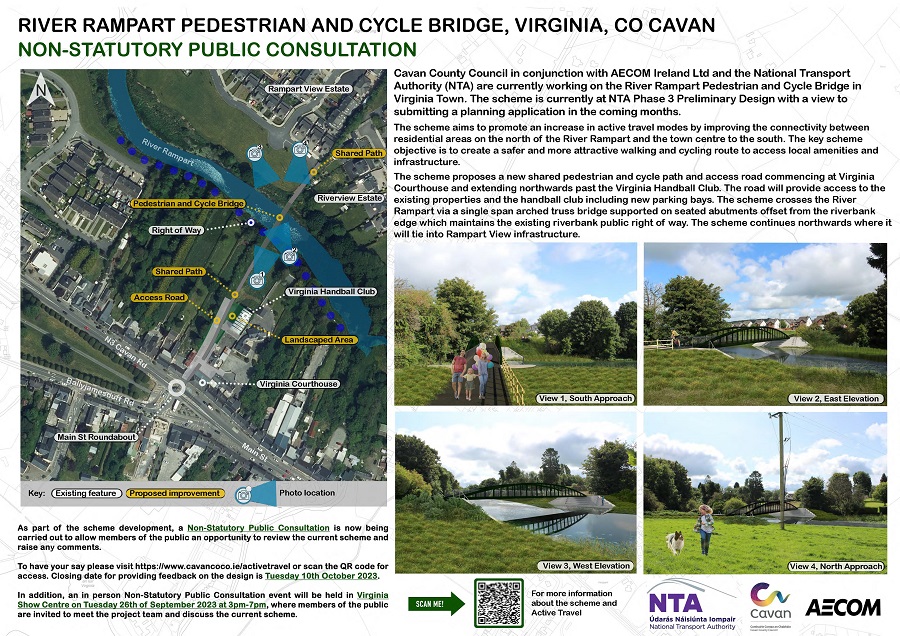 Public consultation
As part of the scheme development, a non-statutory public consultation is now being carried out to allow members of the public an opportunity to review the current scheme and raise any comments.
An in-person non-statutory public consultation event was held in Virginia Show Centre on 26th September 2023.
Submit Feedback
To have your say on this scheme, please download complete the form below and return completed form to the Active Travel Unit before Tuesday, 10 October by email to activetravel@cavancoco.ie or in hard copy to:
Active Travel Unit,
Cavan County Council,
Roads and Infrastructure,
Courthouse,
Cavan,
H12R6V2