Digital Strategy
Cavan Digital Strategy was produced by Cavan County Council in collaboration with local and national stakeholders, sets out our vision and key focus areas for the county for the next three years.
The Strategy aims to encourage and support citizens, businesses, and visitors to harness the potential of a digitally enabled society through digital adoption and innovation. The strategy will initiate, and support, the development of actions that lead to a connected and collaborative digital society and economy over the coming three years from 2021 to 2024.
The Strategy was informed by a public consultation process conducted in late summer and early autumn 2019.  It is a living document that will change and adapt with an ever-changing digital society, as such the actions of this plan will be continually monitored and updated.
Tommy Ryan, Chief Executive of Cavan County Council said,
"Cavan County Council's Digital Strategy aspires to support citizens and businesses to realise the benefits of digital. County Cavan is one of the first counties in the country to see the roll out of high-speed fibre broadband under the National Broadband Plan and this strategy aims to support the potential that high-speed connectivity offers.

"Already under this strategy we are seeing initiatives like free public Wi-Fi in town centres and broadband connection points in rural areas which is supporting digital initiatives in those communities. This strategy is about promoting 'digital thinking' and about supporting businesses and citizens to live, work and connect digitally," added Mr Ryan.
The strategy has its origins going back to 2016 when the Council Broadband Officer together with Cavan Local Enterprise Office and the Community & Enterprise section of the County Council initiated a Digital Economy networking group with local (and diaspora) tech and creative entrepreneurs known as Get Connected. The initial meetings of this group set the scene and direction for a local digital strategy for Cavan.
Councillor Clifford Kelly, Cathaoirleach of Cavan County Council said,
"Connected Cavan will build a digital capacity to pave the way for future prosperity, cohesion and sustainability across the economy and communities of the county. As we have seen with the Covid 19 Crisis, digital tools have been an essential element in our immediate response and this will be fundamental to our recovery. We commit to develop and activate communities through exposure to digital content and technology and support people to discover the value of using digital in their daily lives."
Tara Collins, Chief Marketing Officer of National Broadband Ireland said,
 "NBI would like to congratulate Cavan County Council for launching its Digital Strategy. It's an ambitious plan and it's clear from the document that the development of digital skills and the delivery of highspeed broadband will underpin the strategy. National Broadband Ireland are delighted to help make this ambition a reality through the delivery of the National Broadband Plan on behalf of the Government. We're delivering infrastructure to over 16,000 premises in County Cavan, of which nearly 4,000 can already order services on the new NBI fibre broadband network, paving the way for e-learning, remote monitoring of livestock, e-health initiatives, better energy efficiency in the home, as well as enabling more remote working."
 "The NBP also provides for the delivery of Broadband Connection Points which are local facilities that offer free public access to high-speed internet. There are twelve Broadband Connection Points in Cavan, eleven of which have already been connected, including Kildallan Parish Hall, Castle Saunderson Scout Centre, Bunnoe Community Centre, and Cornafean Communty Centre."
The Connected Cavan Digital Strategy for 2021- 2024 can be downloaded from connected.cavan.ie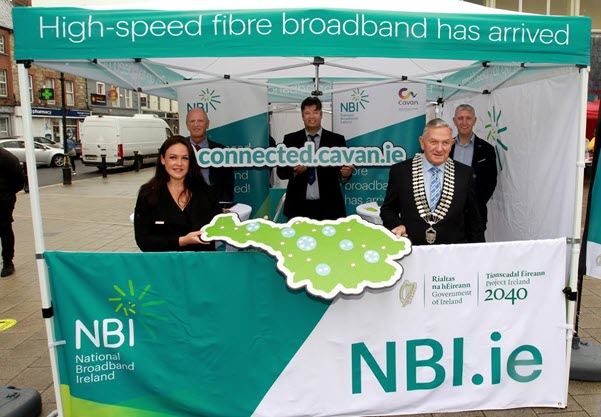 Caption: Pictured at Market Square, Cavan for the launch of the Cavan Digital Strategy are (from left) Tara Collins, Chief Marketing Officer, National Broadband Ireland; Tommy Ryan, Chief Executive, Cavan County Council; Daniel Peeters, Broadband Officer, Cavan County Council; Cathaoirleach of Cavan County Council, Cllr Clifford Kelly; Enda Tiernan, Head of Information Systems, Cavan County Council.
Thank you for contacting Cavan County Council, we will review and deal with your query and contact you if we require further information.