Hedge Cutting Notice
The period for cutting hedges commenced on 1st September 2023.
Owners and occupiers of lands along public roads are obliged to ensure that roadside hedges and trees do not present a hazard or obstruction to road users.
Cavan County Council will, under section 70 of the Roads Act 1993, serve a Hedge Cutting Notice on those who do not carry out this obligation.
Cavan County Council will prosecute those who fail to comply with these notices.
Under Section 40 of the Wildlife Act 1976, incorporating Section 46 of the Wildlife (Amendment) Act 2000, Hedge Cutting can be carried out over a period of six months from 1st of September to the last day of February.
All landowners and occupiers are reminded that hedge cutting and trimming should be carried out as early as possible on hedges adjacent to public roads.
Ensure that the contractor you engage to carry out this work is competent to carry it out safely.
Why?
Overgrown hedges and trees:
Can encroach on a roadway, making it dangerous for pedestrians, cyclists, and vehicles
Can shade a road, leaving it wet and liable to ice
Overhanging branches can fall on a road and hit road users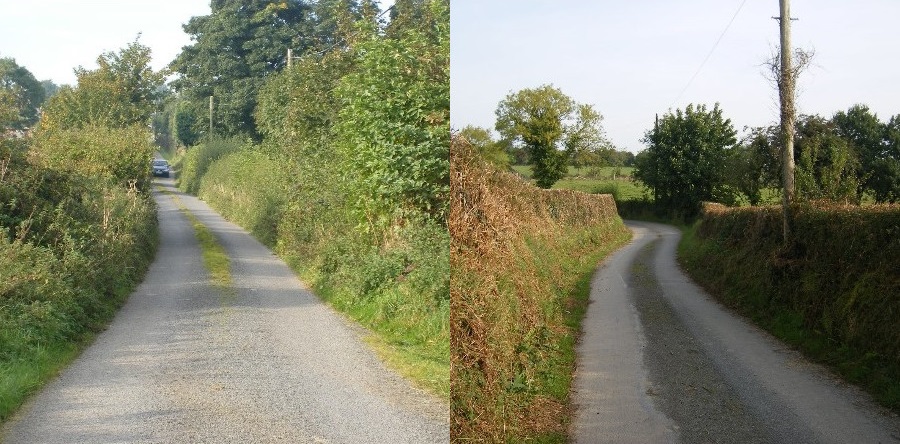 What is Required:
Trees, shrubs, hedges, or other vegetation should be topped, i.e. cut right across horizontally at a height not exceeding four feet over road level and breasted back so that no portion shall encroach on the road carriageway or road margin.
Where trees are to be cut, they shall normally be cut to a height not exceeding four feet over road level.
For further information, contact your local municipal district office: