Air Quality Monitoring Program
Cavan County Council and the Environmental Protection Agency (EPA) have jointly completed a project to install an Ambient Air Quality Monitoring Station in Cavan Town.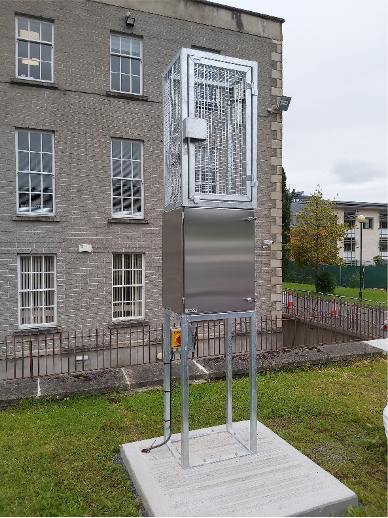 The monitoring unit fitted is known as a FIDAS Particulate Matter (PM2.5 & PM10) monitor. The levels of particulate matter is of growing concern, especially during the winter months when domestic solid fuel burning can directly impact on air quality and represents a significant risk to human health. The monitoring unit has been installed at Cavan Courthouse, Farnham Street, Cavan Town.
The system measures and transmits the air monitoring data in real-time with graphical results presented on the EPA website.
All members of the public have access to this data as well as the national Air Quality Index for Health. The Environmental Protection Agency's Air Quality Index for Health (AQIH) is a number from one to 10 that tells you what the air quality currently is in the station nearest you.
Data for the Cavan monitor is available at: https://www.epa.ie/air/quality/data/cn/pm/
Please Note: Other components of air which may contribute to the Air Quality Index for Health (SO2, NO2 and Ozone) are not currently measured by the Cavan County Council monitor. 
Thank you for contacting Cavan County Council, we will review and deal with your query and contact you if we require further information.