Cathaoirleach pays tribute to Lady Farnham
Cathaoirleach of Cavan County Council, Councillor Clifford Kelly has paid tribute to Diana Maxwell, Baroness Farnham, who passed away this week.
"It was with great sadness that I learned of Lady Farnham's death. Though the Farnham family have not resided in the county for some years now, Lady Farnham retained a strong connection with County Cavan and was a stalwart supporter of Cavan County Museum, entrusting the wonderful Farnham Collection to the museum's catalogue," said Cllr Kelly.
"On behalf of the elected members of Cavan County Council, I extend my deepest sympathies to her daughters Harriet and Sophia, her wider family, and her many friends".
Chief Executive of Cavan County Council Mr Tommy Ryan also expressed his sadness at Baroness Farnham's passing, noting "Lady Farnham was a very impressive individual, who served as a lady-in-waiting to Queen Elizabeth II and, fittingly, accompanied her on her historic visit to Ireland in 2011".
"Though her duties have seen her reside in England in recent decades, she retained a deep personal bond with County Cavan and impressed upon me her great pride in Cavan County Museum's exhibiting of the Farnham Collection. The collection is an invaluable resource which helps foster greater understanding of the complex relationship between the Farnhams and Cavan – a legacy that stretches back over 370 years – and has contributed greatly to the museum's mission of telling our county's story. Ar dheis Dé go raibh a hanam dílis".
Chair of the Ballyjamesduff Municipal District, Councillor Trevor Smith said "Through her links with the museum here in Ballyjamesduff, Lady Farnham made many friends in this area and is fondly remembered by all who knew her. May she rest in peace."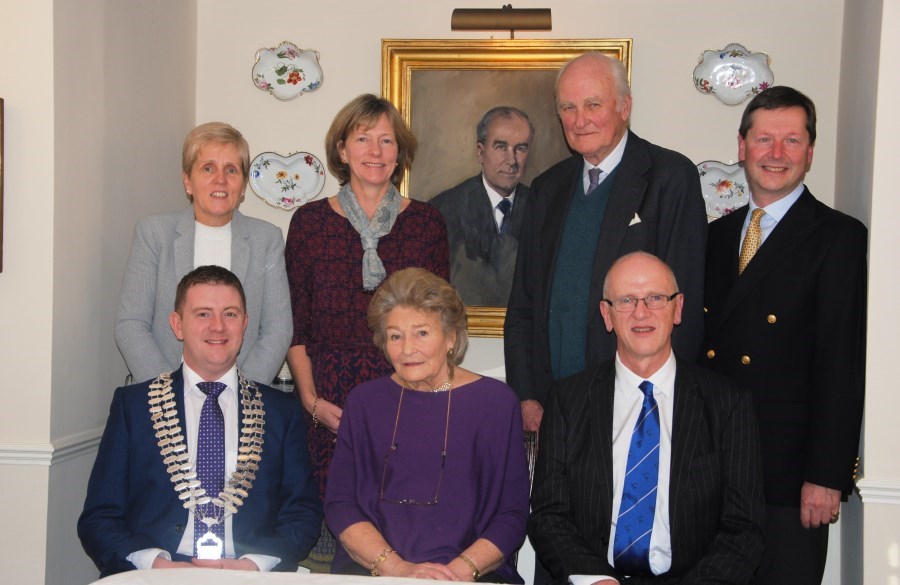 Image caption: Chief Executive Tommy Ryan, Former Cathaoirleach Cllr Fergal Curtin, and Cavan County Museum's Curator Savina Donohoe meet with Lady Farnham in London in 2016. Current Cathaoirleach, Cllr Clifford Kelly has led tributes to Lady Farnham, who died this week, describing her as "a stalwart supporter of Cavan County Museum".