Cavan and Monroe County, NY renew Sister County Agreement
Cathaoirleach of Cavan County Council, Councillor John Paul Feeley and Chief Executive Tommy Ryan, joined Monroe County Executive Adam J. Bello in signing a resolution reaffirming the bond between the two communities. The resolution has also been agreed by the members of Cavan County Council and the Monroe County Legislature.
The Sister County bond between Monroe County, New York and Cavan County, Ireland was established through an act of the Monroe County Legislature in May of 1995; this year marks the 27th Anniversary of linking the two communities.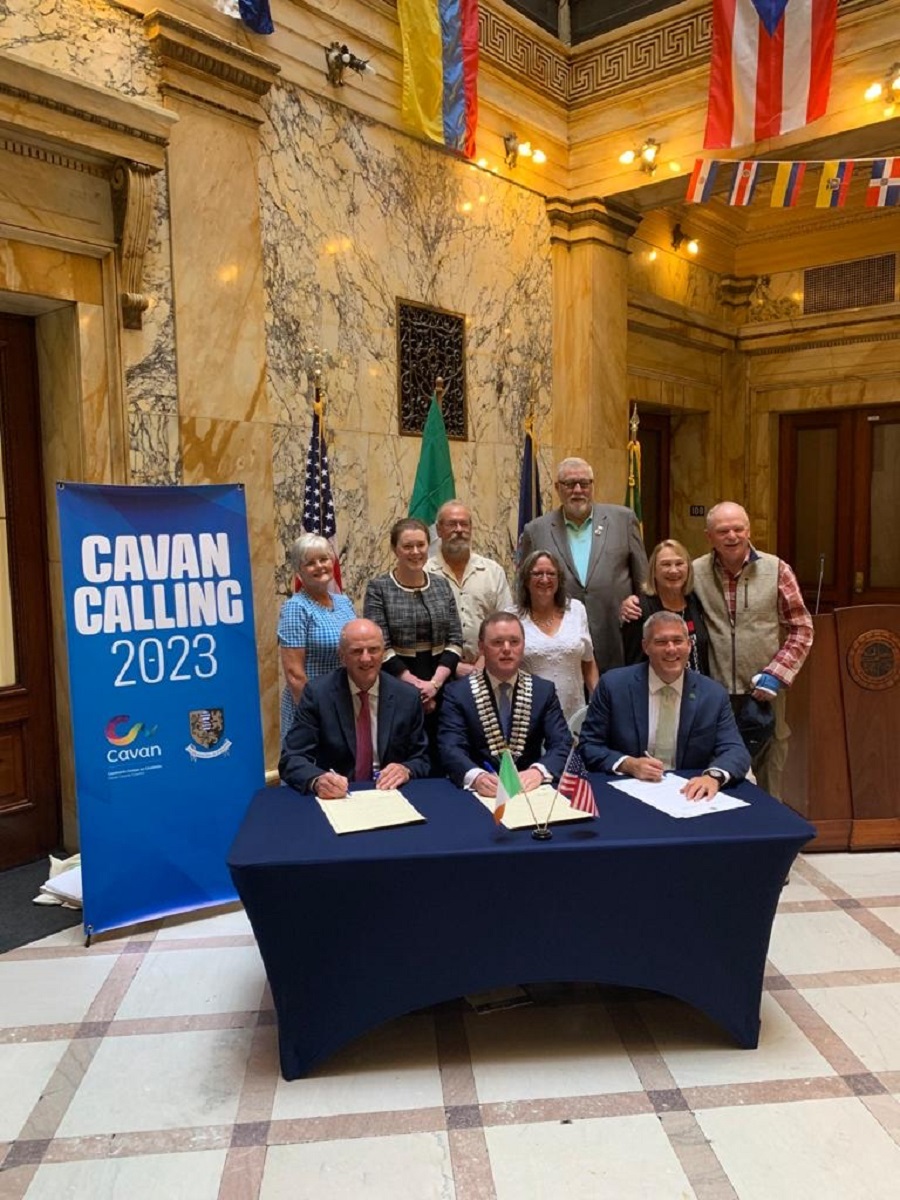 Monroe County and Cavan County are connected through Col. Patrick O'Rorke, who was born in Cavan, Ireland in 1836 and immigrated to Rochester, New York with his family as a young boy. O'Rorke became the first Irishman to attend West Point and served under President Abraham Lincoln during the Civil War. He was killed in 1863 while leading the New York 140th Infantry at the Battle of Gettysburg. O'Rorke is buried at Holy Sepulchre Cemetery in Rochester. In October 2004, a new lift bridge in Charlotte near the mouth of the Genesee River and Lake Ontario was dedicated as the Col. Patrick O'Rourke Memorial Bridge in his honour.
"The Sister County Program is an incredibly important initiative: it allows citizens to connect with other communities and cultures around the globe. It is an honour to host our friends from Cavan County," said County Executive Bello. "Together, we recognized the important contributions that Irish Americans have made to our community, celebrated 27 years of friendship and reaffirmed the bond between our communities."
"We in Cavan County Council place great value on our diaspora and the contribution that they have made throughout the world of which Col. Patrick Henry O'Rorke is a towering example," said Councillor Feeley. "It is my great honour as Cathaoirleach of Cavan County Council to sign this agreement renewing our Sister County relationship with Monroe County. Throughout our visit to Monroe County, it has been clear to see the great reverence and respect the people of Rochester and Monroe County have for Col. Patrick Henry O'Rorke, a great Cavanman, a great Irishman, and an American hero. I hope through renewing this agreement we can continue to honour his towering legacy, and also begin forging new links between our respective counties. I thank County Executive Adam J. Bello and his staff, and the members of both the Col. Patrick O'Rorke Memorial Society and the Monroe-Cavan Sister County Committee for their warm welcome and their tireless efforts to bring our counties closer together."
"I am delighted to renew this Sister County Relationship between County Cavan and Monroe County, a friendship founded on the heroic legacy of Colonel Patrick Henry O'Rorke," said Chief Executive Ryan. "By virtue of one man's journey, the fates of Cavan and Monroe County are forever intertwined. Down through the years, many more Cavan people have made lasting impressions, big and small, on their adopted homelands across the US east coast and, indeed around the world, as they departed Ireland's shores in search of new opportunities. The sadness inherent in their emigration story is matched only by our great pride in their achievements. We will celebrate the Cavan Diaspora and the friends of Cavan around the world at our Cavan Calling festival from 27-30 July 2023, and I hope to welcome many of our friends in Monroe County back to Cavan next year."