Cuilcagh Lakelands Geopark Business Sustainability Training Programme
With a growing market of visitors looking for more sustainable options whilst travelling, the focus to provide sustainable tourism is becoming a key priority for many local businesses.
Having successfully piloted a Business Sustainability Training Programme in 2020 with eight local businesses participating, Cuilcagh Lakelands UNESCO Global Geopark recently rolled out the second round, facilitated by leading tourism training consultants, The Tourism Space.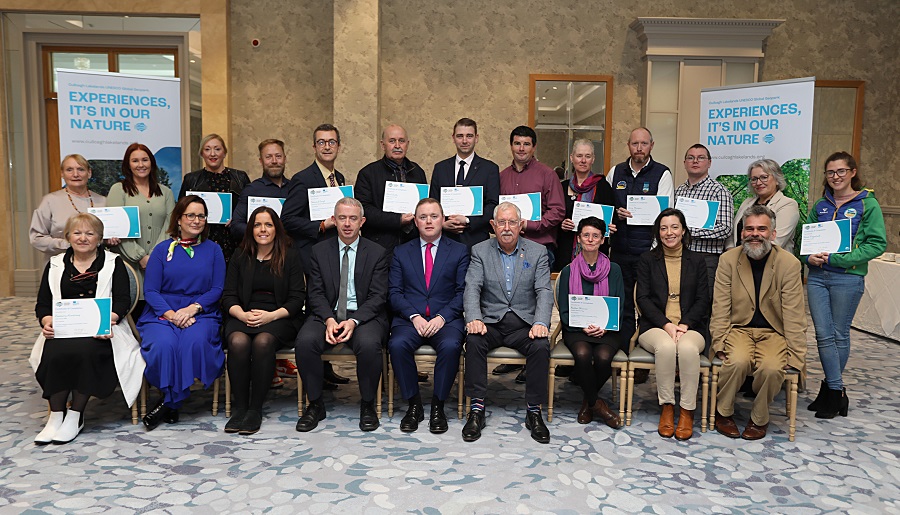 This year, twelve new local businesses participated in the programme, to include Arch House B&B, Blaney Caravan Park, Blue Green Yonder, Erne Water Taxi and the Marble Arch Caves in Co. Fermanagh, as well as Carafin Lodge, Hawthorn Lodge, Into the Wild, Jampa Ling, Noeleen Shannon Yoga, Slieve Russell Hotel, and the XL Blacklion & Route 16 Café in Co Cavan.
The training programme was highly practical providing businesses with the tools to establish baseline information and benchmark standards in the areas of energy, water, and waste management.
As well as a field trip to the Burren and Cliffs of Moher Geopark in Co Clare to engage with the Burren Ecotourism Network to learn about best practises, this comprehensive 12-week programme covered the below topics:
Energy Conservation and Energy Management
Biodiversity and Tourism in the Geopark
Water Conservation and Water Management
Leave No Trace
Waste Management
Accessible and Inclusive Tourism
Marketing the Geopark Together
Building sustainability into the Geopark Visitor Experience
Funded by Cavan County Council and Fermanagh and Omagh District Council, the Business Sustainability Training Programme was a framework that allowed businesses located within Cuilcagh Lakelands Geopark to come together to build a sustainable tourism offering and achieve cost savings through reductions in waste, water, and energy consumption. Having recently, successfully completed the programme, these twelve businesses now benefit from becoming a member of the Geopark Business Network.
The businesses achievements and success for completing the course was celebrated in a certificate ceremony at the Slieve Russell Hotel. Fermanagh Lakeland Tourism and This is Cavan! were also in attendance to show their support, as well as apologies from Failte Ireland and Tourism NI.
Speaking about the Business Sustainability Training Programme, Chair of the Geopark Committee, Councillor John Paul Feeley, said:
"The work of Cuilcagh Lakelands Geopark through the cross-border partnership of Fermanagh and Omagh District Council and Cavan County Council has resulted in an increase in visitor numbers to our region. It is essential that we ensue local businesses benefit from this growth. This programme provides dedicated training bringing local businesses together, ensuring they undertake learning in areas such as biodiversity, leave no trace and accessibility whilst also following practices aligned with the sustainable tourism ethos of the destination."
Director of Services at Cavan County Council, Brendan Jennings explained, "The Geopark's Business Sustainability Programme is an innovative approach to partnership through sustainable tourism principles. The emergence of regenerative tourism as a driving force for communities and businesses adheres to the underlying principles of the Geopark's ethos. Cavan County Council, through the Geopark, is delighted to support this programme. It reflects the importance of cross border partnership in promoting the region."
Head of Arts and Heritage at Fermanagh and Omagh District Council, Ian Davidson noted, "This is a truly innovative programme and was a great opportunity for the participating businesses. It is rooted in the unique Cuilcagh Lakelands area and in the principles of regenerative tourism offering local businesses from across the Geopark meaningful and appropriate training as well as networking and peer support. As the focus of tourism turns increasingly to sustainable management and development, it is clearly a model that others can learn from."
Geopark Manager, Gráinne O'Connor commented, "This programme embodies the principles of sustainable and regenerative tourism working with local businesses in local communities to promote the ethos of the Geopark and create a network of collaboration, engagement and cross border partnership with a renewed emphasis on what makes this UNESCO designated region so special."
If you are interested in your business participating in a future Business Sustainability Training Programme and becoming a part of the Geopark Business Network, please contact info@cuilcaghlakelands.org