New Cathaoirleach elected
Fianna Fáil Councillor for the Cavan-Belturbet Municipal District, Cllr John Paul Feeley is the current Cathaoirleach of Cavan County Council. The Cathaoirleach was elected at the local authority's Annual General Meeting held on 13th June, 2022.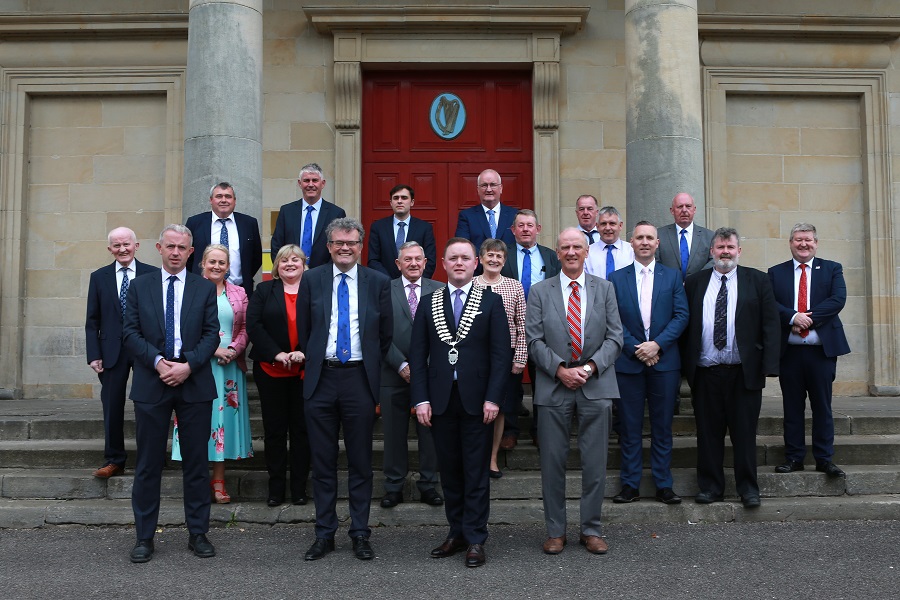 Councillor Feeley received his chain of office from outgoing Cathaoirleach Cllr Clifford Kelly, and councillors on all sides of the chamber and senior management took the opportunity to thank Cllr Kelly for his energy, dedication, and fairness in the role of Chairperson, and wished Cllr Feeley well as he embarked on his year-long term of office.
Cllr Feeley's nomination as Cathaoirleach was proposed by Cllr Seán Smith and seconded by Cllr Patricia Walsh. Cllr Walsh will serve as Leas-Chathaoirleach for the coming year.
Office of Cathaoirleach
The Cathaoirleach is the first citizen of the county. Each year at the local authority's Annual General Meeting, the councillors elect one of their colleagues to carry out this role.
In accordance with Section 31 of the Local Government Act (2001), the Cathaoirleach takes precedence at all meetings of the local authority and all proceedings of the elected council, and has a range of other official and ceremonial functions, including hosting civic receptions and representing the council and the people of Cavan at home and abroad.