Newly unearthed court records shed new light on Independence era
Historic Independence-era legal records, which shed new light on a formative period in Ireland's legal history, have today been presented to Cavan County Library Service as a permanent loan, following their discovery last year.
The records, which relate to the Dáil Courts of the Parish of Drumlane, County Cavan, contain 40 records from cases adjudicated between November 1921 and September 1922.
The records have been donated as a loan in perpetuity by Ms Gretta Donohoe, whose father, John Reilly (1892-1971), hailed from Cuilaghan and served as court clerk for the Parish Court of Drumlane.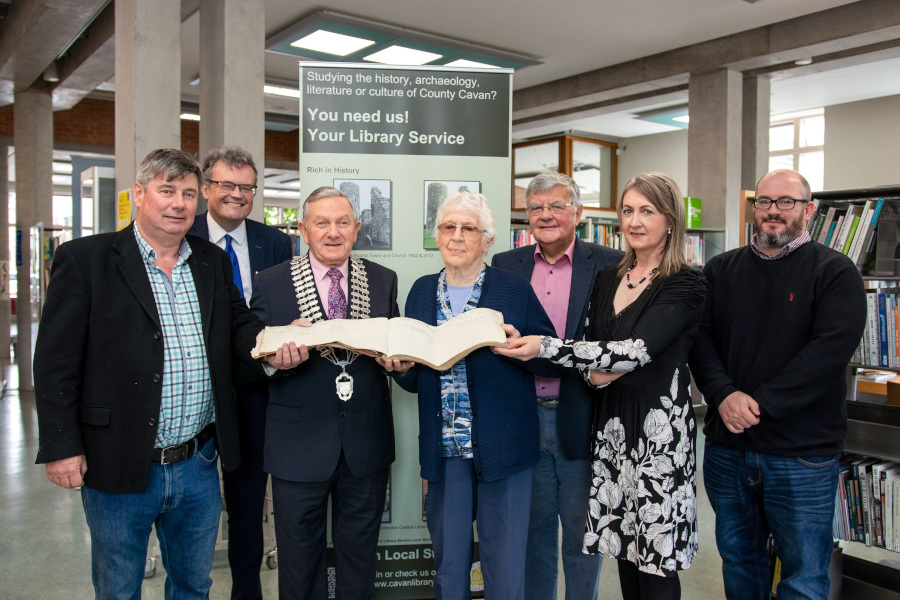 Background
"Sinn Féin in County Cavan established Parish Arbitration Courts in September 1917 in the Town Hall in Cavan Town," explains local historian Dermot McMonagle, whose own father was appointed a judge to these courts by Sinn Féin founder Arthur Griffith. "These courts were initially held 'in camera' until they became public as The Dáil Courts from June 1920. This policy weakened the British courts and the work of the Royal Irish Constabulary, while instituting a new layer of administration for law and order in an emerging Ireland."
Cavan County Librarian Emma Clancy welcomed the donation of these historic records to Cavan County Library Service, where they will form part of the library's extensive local studies collection.
"I thank the O'Reilly and Donohoe families for their donation, which will prove an excellent resource for scholars of both Irish legal history and of the revolutionary period in general. Cavan County Library Service has undertaken a great deal of work in commemorating events around the Decade of Centenaries in recent years, so to add these contemporaneous documents to our collection is very exciting indeed," said Ms Clancy.
Cathaoirleach of Cavan County Council, Cllr Clifford Kelly also welcomed the discovery of these once-lost records, "The process of extricating Ireland from foreign rule was complex and multi-faceted and the establishment of an opposing court system would have played a significant role in undermining colonial authority in the region. Having these historic records available to scholars will no doubt help improve our understanding of the origins of the modern Irish state."