Work Commences on €500,000 Social Housing Deep Retrofit 
Cavan County Council has signed contracts with two local construction firms for the renovation and deep retrofit of ten social housing units across Cavan Town. 
The contracts, worth approximately €500,000 in total, have been awarded to Greenfern Developments from Stradone and Michael B. Hyland, Carrickaboy, helping to support local jobs, in addition to restoring valuable housing stock. 
In addition to returning ten vacant properties to the available social housing stock, this programme of work will see the properties undergo a deep energy retrofit, which will bring their BER ratings, currently between F and D3 up to a minimum rating of B2. This work will involve the removal of oil fired and solid fuel heating systems and the installation of air to water heat pumps along with other energy retrofit measures. 
The properties are all located within the Cavan Town Decarbonising Zone, an area designated by the local authority in which a range of climate mitigation, adaptation and biodiversity measures are identified to address low carbon energy, greenhouse gas emissions and climate needs to contribute to national climate action targets. 
Cathaoirleach of Cavan County Council, Cllr Clifford Kelly, welcomed the commencement of the work, noting "This is a significant investment by Cavan County Council in social housing, in combatting climate change, in local business, and local jobs. I am delighted that two well known local contractors have been engaged to carry out this extensive retrofit project, which will provide much needed housing in our county town while delivering on climate action targets." 
Director of Services for Housing, Eoin Doyle said that the project would build on the excellent progress made over the past year in restoring vacant housing stock.  
"In addition to providing 490 new-build homes over the next five years under the Government's Housing for All strategy, Cavan County Council also recognises the importance of combatting vacancy and dereliction as a means of increasing our available housing stock. Our housing construction team has made great strides in the past year in bringing more homes on-stream and the appointment of local contractors of the calibre of Greenfern Developments and Hyland Construction represents welcome progress in this regard," said Mr Doyle. 
Director of Service with responsibility for Climate Action, Mr Paddy Connaughton added that this exciting project represented significant progress in Cavan County Council's drive to reduce carbon emissions in Cavan Town and across the county generally.  
"The move to upgrade council-owned properties to a more energy efficient and environmentally friendly specification is part of Cavan County Council's commitment to reduce carbon emissions within the Cavan Town decarbonised area and our broader commitment to climate action, as outlined in the council's Climate Change Adaptation Strategy 2019-2024," said Mr Connaughton.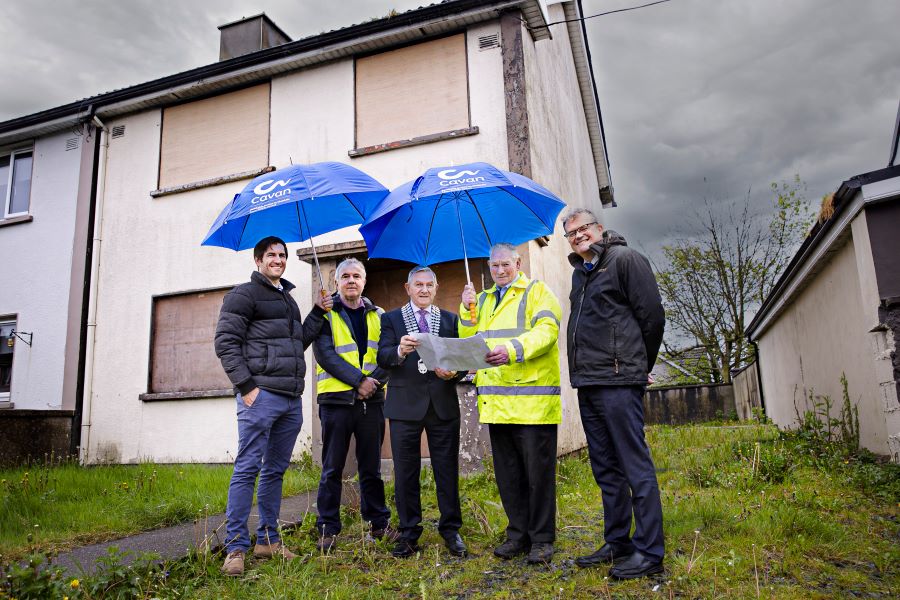 Caption: Pictured surveying ongoing renovation and deep energy retrofit work at a vacant social housing unit at John Paul Avenue, Tullacmongan, Cavan are (from left) Brian Mulligan, Cavan County Council Housing Construction; Cathaoirleach of Cavan County Council, Cllr Clifford Kelly; Michael B Hyland, Contractor. PHOTO: Sonja Smith.