Ballyjamesduff MD honours Canon McCauley
Ballyjamesduff Municipal District Chair Shane P. O'Reilly and the members of the Municipal District presented The Venerable Canon Craig McCauley and his wife Vida with a framed painting of Lurgan Parish Church (Virginia) to thank him for all his hard work in the Parish as he leaves to take up a new ministry in Kildare. The work of art was created by local artist Jim McPartlin and was presented at the Ballyjamesduff Municipal District meeting which was held for the first time at Virginia Church of Ireland Parish Hall on Friday 20th Jan.
Councillor Shane P O'Reilly, Chair of the Municipal District, said "Craig was a tremendous servant to everyone in Virginia and the wider region. He has provided support to the entire community and is greatly loved and appreciated by all. It is only right that we should recognise his service to the local community".
Councillor O'Reilly's comments were echoed by all the members at the meeting, who hailed Rev. McCauley's tremendous service and wished him and his wife Vida and children, Matthew and Laura the very best in the future.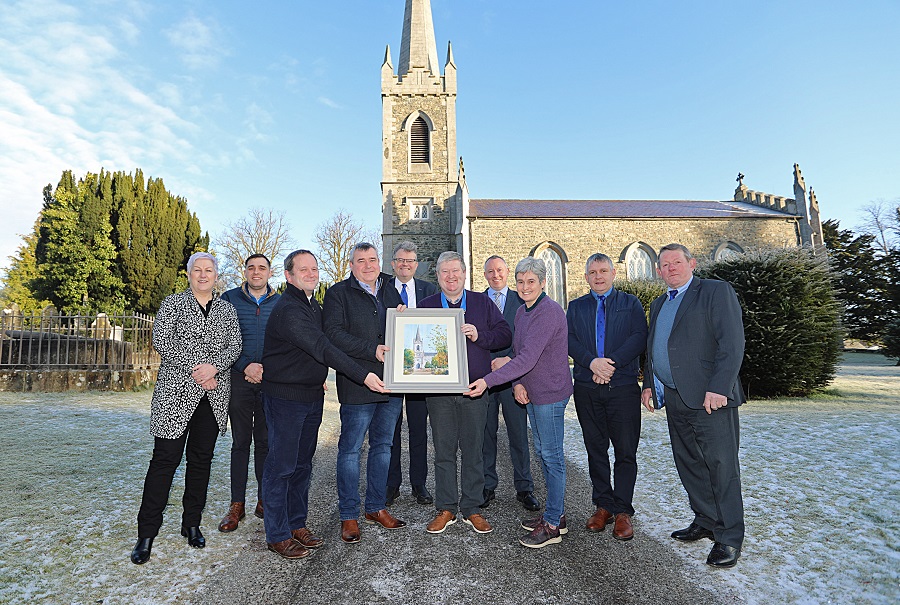 Pictured are (from left) Bernice Smith, Cavan County Council, Ballyjamesduff MD; Cllr Craig Lovett; The Venerable Canon Craig McCauley; Cllr TP O'Reilly; Eoin Doyle, Director of Services, Cavan County Council; Cllr Shane P. O'Reilly, Chair, Ballyjamesduff Municipal District; John McGahern, Ballyjamesduff MD Engineer; Vida McCauley; Cllr Trevor Smith; Cllr Winston Bennett. Photo: Lorraine Teevan.