Cavan Calling programme launched with a Boom!
The line-up for the Cavan Calling 2023 festival has been revealed, with a concert spectacular from legendary rockers The Boomtown Rats among the highlights in a packed programme of events from 26th – 30th July
Cavan Calling is the homecoming festival for Cavan's global Diaspora, a celebration of all things Breffni for those living in Cavan, those from Cavan living overseas, those with Cavan ancestry, or those who simply have an affinity for the county.
Among the events lined up for Cavan Calling 2023 are a Street Carnival, Food Markets, a Military Show at Cavan County Museum, Fireworks Display, acclaimed Famine play 'In the Midst of Plenty', a special two-day Ancestry and Genealogy Conference, concerts by Vltalva String Quartet, African Gospel Choir Dublin, The Percy French Troubadours, Marcus Magee and the Hollaw Men and much, much more.
View the programme
The concert by The Boomtown Rats, taking place at the Egg Market, Cavan Town, will be the crowning moment of 'Cavan Day', the centrepiece of this year's festival, taking place on Saturday, 29th July. Featuring original members Bob Geldof, Pete Briquette, and Simon Crowe, the world-renowned rock legends will perform classics such as 'Rat Trap' 'Lookin' After No. 1' and 'I Don't Like Mondays'. Founder member, bass player Pete Briquette, originally hails from Ballyjamesduff, County Cavan, adding a special local connection to this Diaspora celebration.
The event programme was launched at Crover House Hotel on Wednesday, 22nd February by Cathaoirleach of Cavan County Council, Cllr John Paul Feeley, and Chief Executive of Cavan County Council and Cavan Calling Chairman, Tommy Ryan.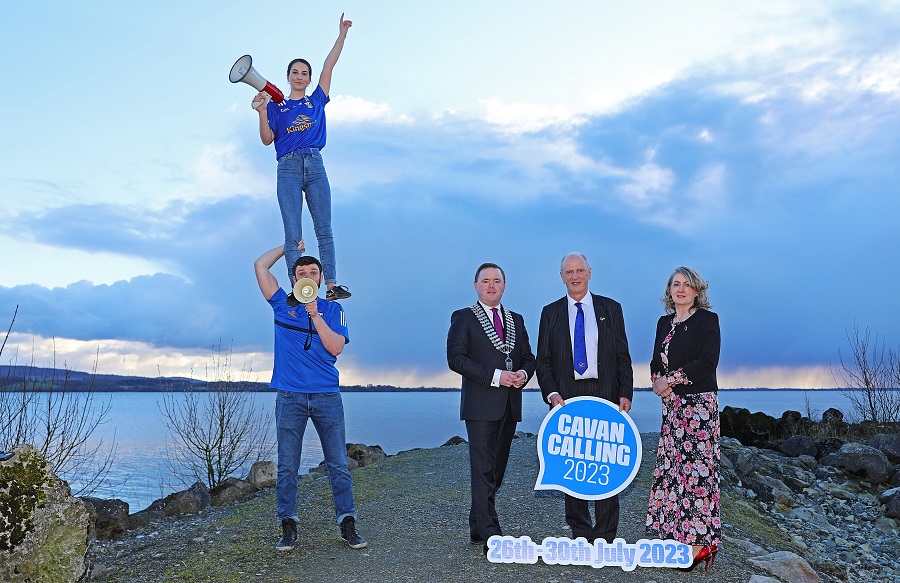 Speaking at the launch, Cathaoirleach, Cllr Feeley, said, "This exciting programme highlights the exceptional creative talent Cavan has to offer. There is something for everyone, whether they are travelling to Cavan for the first time or living locally. Cavan Calling will also coincide with the centenary celebrations at Kingspan Breffni, the home of Cavan GAA.  I encourage everyone with Cavan connections or an affinity for this great county, to make the journey to Cavan from 26th to 30th July – Cavan is calling you home!"
Chief Executive of Cavan County Council Tommy Ryan said, "Cavan Calling was initially scheduled to happen in 2020, and looking at this exciting and eclectic programme, I can say that it was certainly worth waiting for. We have lined up a wonderful array of cultural events, street art and spectacle, genealogy workshops, community celebrations, and business networking opportunities, with even more events to be announced in the coming weeks. I look forward to welcoming the global Cavan family home this 26th – 30th July and I am sure the people of Cavan will turn out in force to welcome home our Diaspora and to enjoy this unique celebration of Cavan and its people".
For more information on Cavan Calling, visit www.cavancalling.com, follow @cavancalling on Facebook, Twitter, and Instagram, or email info@cavandiaspora.com.