Nuálach Automation ltd. Wins Top County Enterprise Award
A mechatronic engineering business from Virginia is this year's winner of the County Cavan Enterprise Award for 2023, Local Enterprise Office Cavan has announced.
Nuálach Automation Ltd. took the top prize of € 5,000 and will now represent Local Enterprise Office Cavan at the 23rd National Enterprise Awards at the Round Room in Dublin on the 1st June.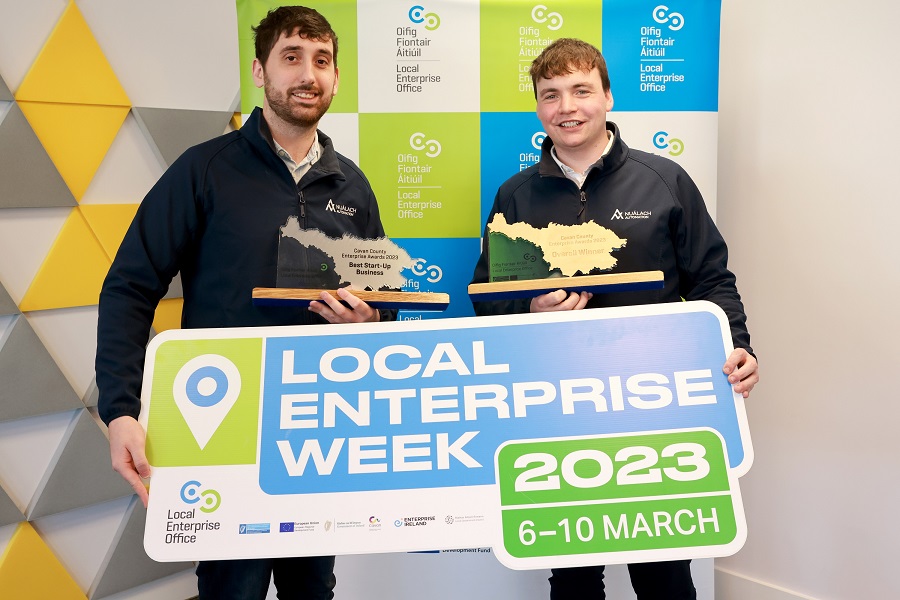 Other winners at the County Cavan Enterprise Awards held at Cavan Digital Hub included Barry John's Sausages who won the Green Sustainability Award and Trave Innovation Ltd. who won the Innovation Award.
National finals
Nuálach Automation Ltd. will now be competing against 30 other finalists from every local authority area for a share of the €35,000 winner's prize fund as national judging gets underway in May.  Categories this year include 'Best Export Business,' 'Best Start-Up' and 'Innovation,' along with "One to Watch" and a "Sustainability / Green" award in addition to eight regional awards. 
The County Cavan Enterprise Awards took place as part of a very successful Local Enterprise Week programme of events.  There were over 300 physical events took place across the country, run by the 31 Local Enterprise Offices from March 6th to 10th.
Among the special guests at the ceremony were Cathaoirleach of Cavan County Council, Cllr John Paul Feeley, Tommy Ryan Chief Executive Cavan County Council, Cllr Carmel Brady, Cllr Peter McVitty, Cllr TP O'Reilly, Cllr Madeline Argue, Cllr Winston Bennett, Cllr Patricia Walsh, Vincent Walshe LEO Evaluation Committee Member and Brendan Jennings Director of Service Cavan County Council.
Other high-profile events that took place during the week included Preparing Your Business for a Leaner & Greener Future, Celebration for International Women's Day, and the Student Enterprise Programme County Final, along with many other online events.
Local Enterprise Week is organised every year by the Local Enterprise Offices and supported by Enterprise Ireland, local authorities and the Government of Ireland with over 300 events taking place nationwide this year.